I'm having fun exploring the capabilities of my Modal Electronics Cobalt8 virtual-analogue synth, so I'm creating this pack of free presets/patches for you to use in your own productions. Some deep and luscious-sounding analog goodness! 🌈🦄✨ Hit play to preview a bunch of the included presets:
This preset pack currently includes 51 free patches. I may add more presets to the pack over time, so you can subscribe here and I'll consider sending out an email when the pack is substantially beefier.
✨🎛️ The Cobalt8, which was released in October 2020, is the latest addition to the lineup of synths by Modal Electronics. The Cobalt8 is similar in design to the Argon8, but for analog sounds instead of wavetable sounds. So far I'm really enjoying my Cobalt8 unit and looking forward to continue exploring how deep it can go.
---
How to install the Cobalt8 presets/patches
Start by unzipping the preset pack.
Next, to install the free patches on your Cobalt8 unit, you'll need to install the MODALapp to your computer.
Once installed, plug your Cobalt8 to your computer via USB and fire up the MODALapp. Next, go to the Preset Manager tab and right-click on the bank you want the preset to go into. Choose 'Import' and then browse to the unzipped preset files and select them. Et voilà! ✨
In case some of this is unclear, here's a video by Modal Electronics that demonstrates the process.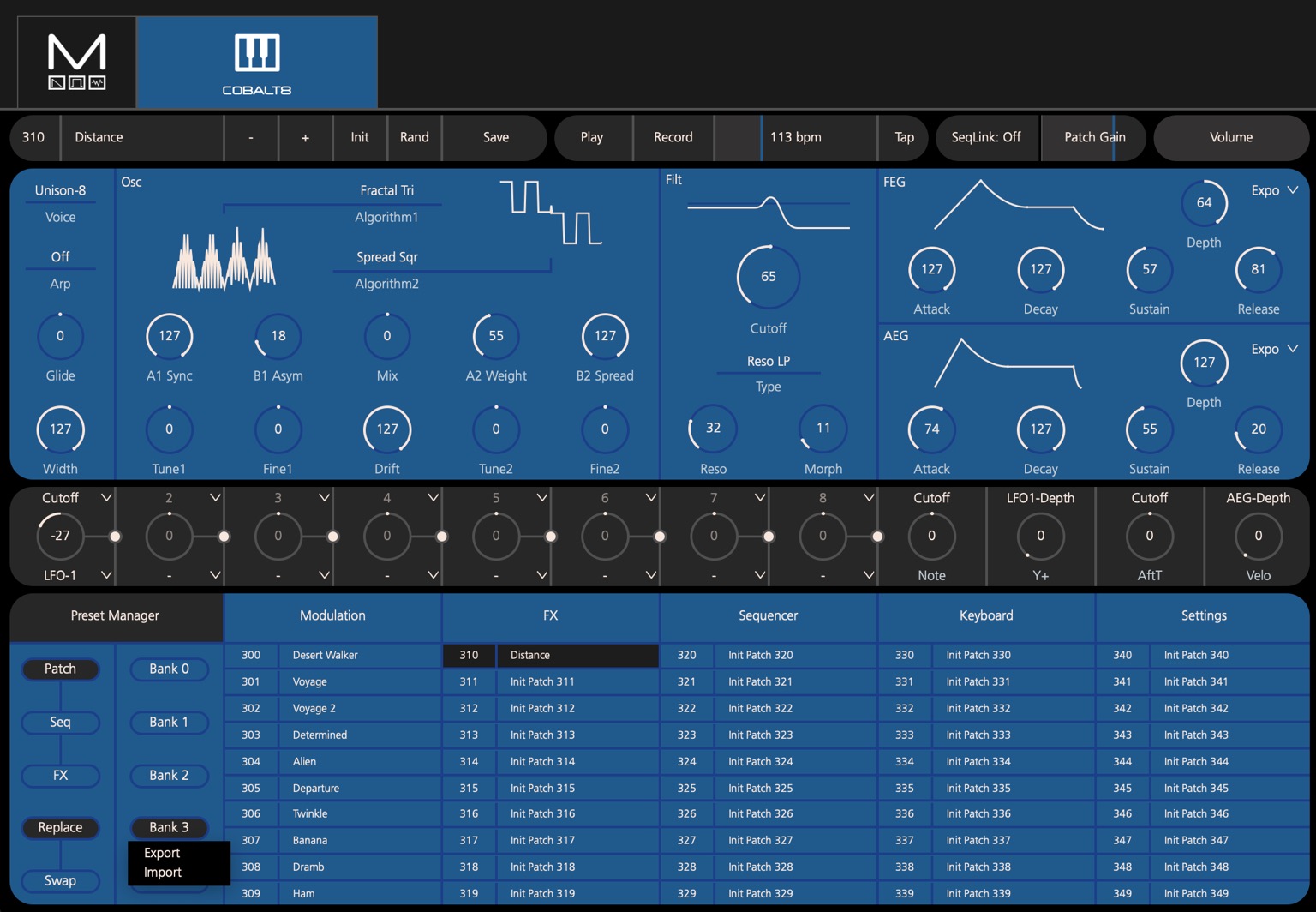 * Note that if you're importing the presets in a bank that already has presets installed, you'll probably want to back up your current presets first.
---
copyright & terms
You're free to use the presets for both personal and commercial projects. No attribution is required, but a mention is really appreciated!
You cannot sublicense, resell, share, transfer, or otherwise redistribute these preset files.
The presets are provided "as is" without warranty of any kind, either expressed or implied, including limitation warranties of merchantability, fitness for a particular purpose, and noninfringement.