Phrygian Mode/Scale: Interactive Piano & Guitar Reference with Chords
🎨 A visual piano and guitar reference to the Phrygian mode (aka Phrygian scale), which is the 3rd mode of the major scale. The Phrygian mode is created from the major scale by flattening the 2nd, 3rd, 6th and 7th scale degrees. The Phrygian mode is minor-sounding and sounds Eastern or Spanish.

This reference includes the notes and chords on the piano keyboard for each Phrygian scale.
Phrygian mode formula:
1 - b2 - b3 - 4 - 5 - b6 - b7
Phrygian Mode: Reference Table
First, a reference table for the Phrygian mode/scale for all the keys. The keys are in order of 5ths, as with the circle of fifths. This illustrates the close relationship between keys that are a 5th distance apart.
i
II
III
iv
v°
VI
vii
i
C
D♭
E♭
F
G
A♭
B♭
C
G
A♭
B♭
C
D
E♭
F
G
D
E♭
F
G
A
B♭
C
D
A
B♭
C
D
E
F
G
A
E
F
G
A
B
C
D
E
B
C
D
E
F♯
G
A
B
F♯
G
A
B
C♯
D
E
F♯
D♭
E

♭♭

F♭
G♭
A♭
B

♭♭

C♭
D♭
A♭
B

♭♭

C♭
D♭
E♭
F♭
G♭
A♭
E♭
F♭
G♭
A♭
B♭
C♭
D♭
E♭
B♭
C♭
D♭
E♭
F
G♭
A♭
B♭
F
G♭
A♭
B♭
C
D♭
E♭
F
---
Phrygian Mode on Guitar
Here you can visualize the different keys of the Phrygian mode on the guitar fretboard. You can highlight the notes in each of the phrygian scales using the CAGED or the Three Notes Per String (TNPS) systems.
Select a Key:
Scale:

show:
highlight:
box:
box:
---
Phrygian Mode on Piano
And now for each of the keys/scales in more detail. Tip: click the lock icon to trigger the chords of that key using buttons 1 through 7 on your keyboard.
---
Piano Samples
The piano samples used for this phrygian scale reference are from "Salamander Grand Piano V3" by Alexander Holm, licensed under CC BY 3.0.
---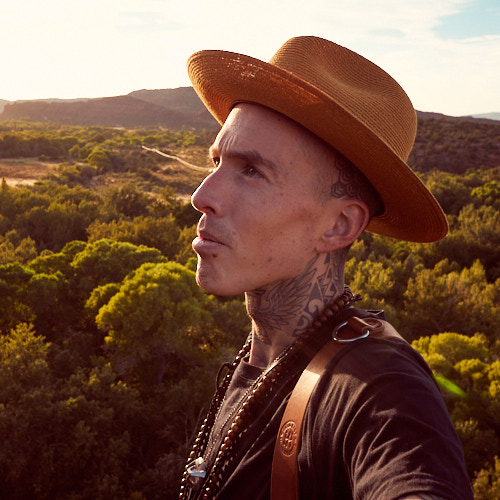 Hey 👋, I'm Seb and I'm creating muted.io
I need your help! If you have a few dollars to spare, I would be incredibly grateful if you could donate to support the development of muted.io. 🙏
I estimate that I would be able to fully support myself if only about 3% of the site's visitors made a one time $4 donation.
My ultimate goal is to be able to focus my time on creating more free musical tools, and your donation will go directly towards making that goal a reality. 🙌
- Seb, ✌️ + ❤️